School Council
A school council is group of students who are elected to represent the views of all pupils and to improve their school.
"School council" means all kinds of school-based groups run by students, including student forums and youth parliaments.
Having a School Council helps us to improve aspects of our school community by exercising our rights and accepting our responsibilities.

It also helped to:
• Improve teaching and learning
• Reduce bullying, vandalism and
anti- social behaviour.
• Develop the relationship between
staff and pupils
Our School Council aims to encourage our children to:
Develop confidence and responsibility and make the most of their abilities
Prepare them to play an active role as citizens
Develop healthy, safer lifestyles
Develop good relationships and respect the differences between people
To have a "voice" and to share their opinions and ideas with others

Why?

We value the benefits of operating a School Council. The School Council represents the whole school. We feel they benefit the whole community and as a school we operate as a community. Through our School Council and class council work, it is hoped that we can develop a balance and wholeness, helping to make our community more harmonious to live in. Our School Council work will enable pupils with positive attitudes to exert a positive influence. Everyone will benefit from the work of the School Council.

Our School Council aims to ensure our children have:
A safe, happy and fair learning environment
A forum to voice their concerns and act upon them
A structured opportunity to learn problem-solving skills
An opportunity to take an active role in the organisation of the school
An opportunity to experience a democratic process


Our School Council should encourage pupils to develop:
A sense of ownership over policy and practice
A consensus over school issues such as behaviour
A responsibility towards the school community and environment

Our School Council should give pupils the experience of:
Planning, organising and monitoring small projects
Speaking and listening skills
Debating skills
Mediation and negotiating skills
Basic budgeting and managing money

Our School Council aims to prepare our pupils for citizenship by teaching them about roles, rights and responsibilities within the school system.

Elections:

Class elections are held every year so that different representatives can put forward their election speeches as well as developing the full potential of the School Council to complete tasks.

The school council also includes the Eco Council, Wellbeing Council and the Learning Council.

Link between the School and Class Councils:

Each class will operate a class council in which issues are discussed associated with their class. If, however, an issue does occur which they feel needs to be forwarded to the School Council, then the issue will be presented to the School Council through the class representative.

The School Council will be leading more meetings with the whole school to hear their feedback on a termly basis.

Feedback will be provided from each School Council Meeting through minutes from the meetings and feedback from the link teacher.

Running the School Council Meetings:

The School Council will vote for a chair. This is the person who makes sure everyone gets a turn to speak and encourages all members to contribute. In addition the School Council will ensure someone takes notes during the meeting and the notes should assist the feedback classes receive after the meeting.

At the end of the School Council's meeting, everyone needs to know what they have to do next. The chair needs to make sure members know what to do and what they have to say to their class.

Giving Feedback to Pupils:

Following the School Council Meeting, School Council Members speak to their class to let them know what is going on and tell the class about the issues being discussed and what is happening next. This will encourage more children to contribute to further meetings, share worries and let members know the things which could be done to improve the school. The school will record School Council Achievements on the school newsletter as and when appropriate.
School Councils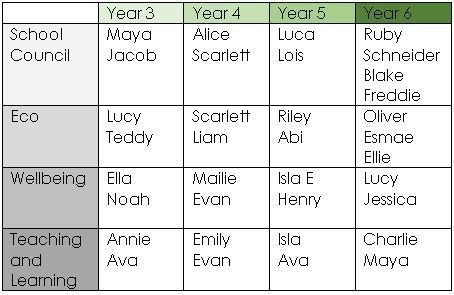 Eco Council:
Eco-Schools is a global programme engaging millions of children across 64 countries, making it the largest schools programme in the world. For more than 20 years Eco-Schools has been empowering children to drive change and improve their environmental awareness. Eco-Schools improves pupils' skills, raises environmental awareness, improves the school environment and also creates financial savings for schools as well as a whole host of other benefits.
The Eco team at All Souls' is very proud to work towards the Eco schools status. The Eco team ensure that we respect our environment by keeping it safe and clean.
Wellbeing Council:
The Wellbeing council incorporates the Sports Council, Healthy Living council and mental health and wellbeing council. The Sports Council encourages children to try new sports and become more active to improve fitness levels. Each month, the Wellbeing Council is responsible for updating the Sports Competitions and Clubs display. This allows children to sign up for any sports competition or clubs they are interested in. Children can also offer suggestions of sports they would like to learn about. The Healthy Living Council works hard to promote a healthy lifestyle throughout All Souls'. Children are encouraged to take part in sports activities and regular exercise. In the past, we have set up the Daily Mile, where children and staff walk a mile a day. This helps to promote fitness and a healthy lifestyle.
The Healthy Living Council also encourage children to bring healthy snacks and lunches into school. An award for the healthiest lunch is given each week to celebrate a healthy living.
Teaching and Learning Council:
At All Souls' the Learning Council works hard to celebrate our learning successes. The council encourages children to discuss their learning and engage in feedback sessions with the council leader.
In the past, the Learning Council has set up ROLE within Key Stage Two. This is where children offer peer-to-peer advice to support and discuss individual learning. The Learning council has also set up Self Assessments and Peer Assessments across the whole school. This allows children to responsibly evaluate their own learning.
Anti-Bullying Council:
Anti-Bullying Council members are:
Year Three: Lucy Taylor & Zac Taylor
Year Four: Bella Aldred & Alfie Edwards
Year Five: Kaya Gardiner & Jack Morton
Year six: Mia Rae Gommersall & James Hill
Head girl video application